HEALTH IS NO ACCIDENT
LaVita supports our immune system*.Natural, practical and scientifically based.
*With iron, vitamins C, A, D, B6 and B12, folic acid, copper, selenium and zinc, LaVita contains all the relevant micronutrients that support the normal function of the immune system.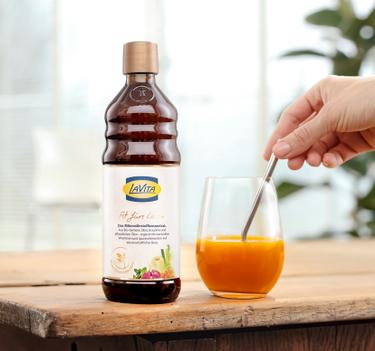 The impotance of nutrition for our health
Nutrition is the foundation of our health.
Scientists agree: what we eat ends up in our cells. Every single one of these is a small biochemical factory – this is where our life unfolds
The better our cells are supplied with micronutrients, the better the conditions for our immune system1, but also for performance2 and less fatigue3, for cell protection and prevention4, and for our cardiovascular system5 and our blood sugar levels6
We have additional increased needs for micronutrients when, for example, undergoing stress or physical exertion, during pregnancy and breastfeeding, and, above all, when taking medication regularly
1With iron, vitamins C, A, D, B6 and B12, folic acid, copper, selenium and zinc, LaVita contains all the relevant micronutrients that support the normal function of the immune system. 2Niacin, vitamin B2, vitamin B1, vitamin B12, pantothenic acid and vitamin B6 contribute to normal energy metabolism. 3LaVita provides plenty of iron, folic acid, magnesium, niacin, vitamin C, and vitamins B2, B12 and B6, which help to reduce tiredness and fatigue. 4Vitamin B2, selenium, vitamin C, vitamin E and zinc help to protect cells from oxidative stress. Folic acid, vitamin B6 and vitamin B12 contribute to normal homocysteine metabolism. 5Vitamin B1 contributes to normal cardiac function. Folic acid, vitamin B6 and vitamin B12 contribute to normal homocysteine metabolism. Vitamin K supports normal blood clotting. Vitamin C contributes to normal collagen formation for normal blood vessel function 6The chromium in LaVita helps maintain normal blood sugar levels.
Healthy nutrition: the question is not if we can do it, but whether we do it every day
Even if we know how important a healthy diet is, it is not always easy for us to take care of ourselves optimally in our everyday lives. A look at our habits shows that we often eat too few whole grain products and ingest hidden fats, industrially produced ready meals, and far fewer fruits and vegetables than the minimum recommendation of five servings a day.
70% of the energy we consume is empty carbohydrates, which provide few micronutrients
Only 15% of women and 7% of men achieve the minimum recommendation of five servings of fruit and vegetables a day (Study on Adult Health in Germany (DEGS1))
85% are dissatisfied with their diet (IfD Allensbach survey)
Micronutrient expert Uwe Gröber recommends
"There is barely any metabolic step in our body that does not involve micronutrients. Broad optimisation of one's daily diet makes sense, as recommended by Harvard University.1 LaVita stands out, in particular, for its many natural raw ingredients, its scientific dosage and its practical application."
Uwe Gröber is the author of numerous publications and specialist books. As one of the leading micronutrient experts in Europe, he has been active in educating and providing advanced training for professionals for over 25 years.
1Source Skerrett PJ, Willett WC, Essentials of healthy eating: a guide. J Midwifery Health, 2010; 55(6): 492-501
Micronutrients in the natural environment
LaVita contains over 70 natural foods such as organic vegetables, ripe fruit from meadow orchards, herbs and vegetable oils. In this natural environment, LaVita provides a daily supply all important vitamins and trace elements
H
Holistic composition
Micronutrients work best hand in hand. They complement each other. In LaVita, they are also combined with phytochemicals and enzymes – just like in nature
U
Broad-based foundation
Ideally, one should always increase one's overall level of micronutrients to avoid imbalances. LaVita ensures broad-based optimisation of our micronutrient supply every day
I
Scientific dosage
LaVita contains all the important vitamins and trace elements in scientifically based doses, which the EFSA (European Food Safety Authority) has confirmed are important for the immune system
P
Ripe ingredients, the highest quality
Complete ripening of the ingredients in LaVita is important, since a large portion of the micronutrients and phytochemicals are only formed during the final phase of the ripening process. LaVita is produced gently, without any preservatives or other additives, and is free of pesticides and heavy metals
F
Practical and convenient to use
Not only crucial for children and the elderly: a liquid and delicious product like LaVita can be easily integrated into everyday life
These micronutrients are relevant fpr our immune system
Our immune system is supposed to protect us every day. These immune-relevant micronutrients support it in doing this
One tablespoon of LaVita contains all 10 micronutrients in scientifically based doses that are recommended by the EFSA (European Food Safety Authority) for the immune system:
300 mg vitamin C.
10 µg (= 400 IU) vitamin D
35 μg selenium
5 mg zinc
668 µg retinol equivalents of vitamin A (as beta-carotene)
4 mg vitamin B6
400 µg folic acid
5 μg vitamin B12
0.25 mg copper
4 mg iron
LaVita's bioavailability is scientifically proven
An internationally published study1 proves that the vitamins and trace elements in LaVita reach the cells
All substances measured in the blood, from vitamin A to zinc, increased significantly in the blood with daily use – for the most part, highly significantly. The scientists also confirmed that the numerous ingredients do also actually make it to where they are needed: in our cells – where life unfolds.
1Neuroendocrinology Lett. 2015 Sep 12;36(4): 337-347, headed by Prof. Mosgöller, University of Vienna
Our customers are delighted
We already have more than 30,000 enthusiastic testimonials
We experience every day the importance that LaVita has for our customers. This is also shown by the more than 30,000 testimonials that have reached us over the past 20 years. As different as the stories are, they all have one thing in common: these customers have integrated LaVita firmly into their everyday lives.
"
LaVita was recommended to me by my doctor at the beginning of my pregnancy because I was looking for an alternative to tablets. That was almost two years ago. Since then, the whole family, including our youngest one, has been taking LaVita every day. And what can I say: we are delighted, and so are our immune systems.1 We will continue to enjoy LaVita – because it is also really delicious.
Christin W.
"
I notice how convinced I am when I talk to loads of people about the LaVita product. Funnily enough, when I report on my good experiences I am sometimes interrupted with the remark: "I drink it every morning, and have been doing so for years".
Christian Nienhaus, artist
"
My immune system1 thanks me for the extra daily dose of vitamins and trace elements. I am absolutely convinced of this product, and can recommend it with a clear conscience.
Agnes J.
"
LaVita is a vital product that has become an integral part of my diet
Holger Stromberg, star chef and author
1LaVita contains iron, copper, selenium, vitamin C, vitamin D and zinc, which support the normal function of the immune system.
What to look out for
The mark of the right micronutrient concentrate
| Characteristic | Fulfilled by LaVita |
| --- | --- |
| Natural product that provides broad-based support | |
| All important vitamins and trace elements, as well as phytochemicals and enzymes, combined in one product | |
| Scientific dosage | |
| Micronutrients in balance | |
| Scientifically proven bioavailability | |
| Liquid form for particularly good usability | |
| Fully ripened ingredients | |
| Free of preservatives and other additives | |
| No added sugar or sweeteners | |
| Vegan | |
| No pesticides or heavy metals | |
| Practical and tasty for easy integration into everyday life | |
| Also suitable for children | |
*Neuroendocrinology Lett. 2015 Sep 12;36(4): 337-347, headed by Prof. Mosgöller, University of Vienna
How to use LaVita
The usage of LaVita is so simple
Make LaVita an integral part of your everyday life. This way you can easily and conveniently optimise your micronutrient supply. One tablespoon (10 ml) of LaVita stirred into 50-100 ml of water makes one portion.
50-100 ml Pour water into a glass
1 tablespoon of LaVita Add concentrate
Before drinking stir well
For getting started (again):
For the first 75 days, we recommend two servings a day (10 ml LaVita for each serving, diluted with 50–100 ml water). After roughly this amount of time, the majority of the cells in our body will have renewed themselves once, on average.
Optimal support:
For optimal support and in times of particular strain, such as when suffering from stress or illnesses, during pregnancy, when taking medication, or when diet is not optimal, we recommend two servings a day.
Basic support:
Just one portion a day is enough to provide basic support for a healthy person.
"
For more than 20 years, we at LaVita have been concentrating exclusively on producing a natural product with the best composition and the best quality that holistically optimises our daily diet. In doing so, we do all we can to gain your trust and satisfaction.
Gerd Truntschka, Founder & Managing Director of LaVita
Get started now
Make LaVita an integral part of your everyday life and optimise your supply of micronutrients and vital substances (vitamins and trace elements) holistically and conveniently. This is particularly easy with our delivery service – you also benefit here from a saving.
j
You want to order online?
Delivery in 1-3 working days,
no shipping costs within Germany
and to Austria
u
You still have questions or would like to order by phone?
You can reach us:
Monday to Friday from 8 to 19 o'clock
Saturdays from 9 to 14 o'clock